Make Haltom City Thrive Again - Bring the Businesses Back
Do you think the southern and central parts of the city could be improved?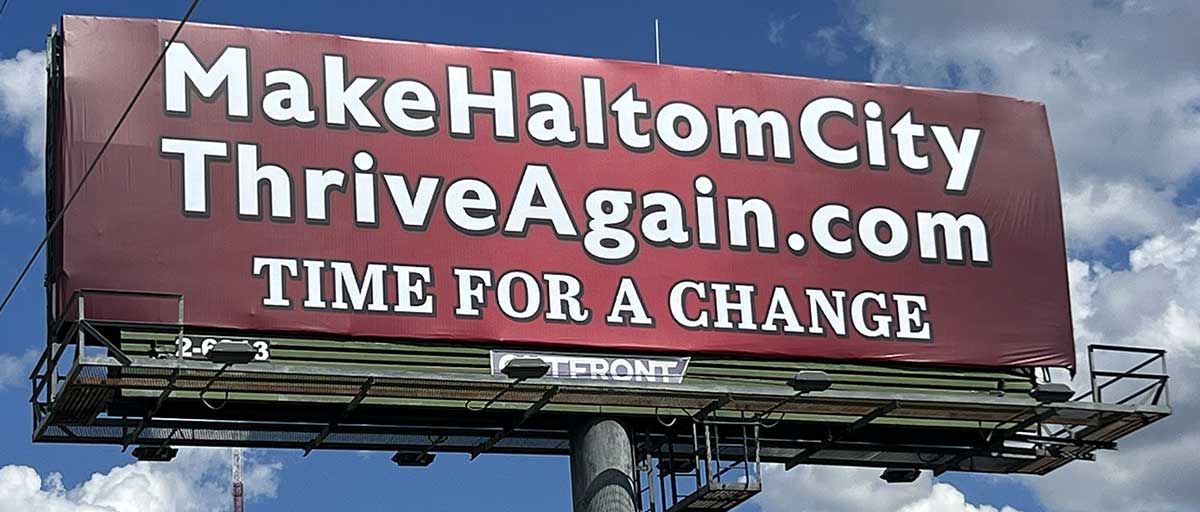 Thank you for visiting my web site today. My name is Ron Sturgeon, and I am a 50-year alumni of Haltom City. I started my first business here when I was homeless and penniless, right out of high school. I went on to be very successful in real estate and starting small businesses. I am "the millionaire" others are talking about who wants to revitalize Haltom City.
If you live or work in Haltom City, you and I have something in common – we both have a vested interest in a brighter future for Haltom City. I need your help in making Haltom City Thrive Again!
Why do I care? Most people have a favorite nonprofit they like to give their time and money to. They have no motive other than seeing the results of their efforts. I also have no motive and nothing to gain by this initiative. I have no vacant or undeveloped property in the city. I have been an advocate for small business for more than 40 years, as I struggled, and watched others struggle to become successful. That struggle is real.
I want to see Haltom City be the friendliest city in Tarrant County for small business, which I believe will allow the city to revitalize the declining areas and bring back the prosperity and opportunity these areas once enjoyed, by bringing back small businesses to utilize all the vacant property, and also develop small lots. My legacy will be improving the city and the prosperity of its residents.
We need new leadership. I believe our current Haltom City Council is in denial about the need to revitalize these areas, and certainly remiss in not proposing aggressive plans to do so. Post Covid, cities need to learn to compete, just like businesses. Many leaders of the city don't want my help or resent me trying to change the city and have ignored my ideas for over a year. Google me to learn more about my business success and philanthropic efforts and see the qualifications in my resume that I bring to this effort. I recently was awarded Entrepreneur of Excellence by Ft. Worth Magazine, for my accomplishments in the fields of real estate and small business. Almost all of my success has been in small businesses, commercial real estate, and landlord/tenant relationships, where I have over 1,500 tenants. I also believe that people who own businesses or property in HC, but live elsewhere should be considered stakeholders and allowed to volunteer to work on economic development committees for the city. Right now, they cannot. A lot of brain power is not being used; their opinion isn't even registered. Also, of course, first responders are major stakeholders.
Current leadership is outspokenly focused on the northside, and bringing large distribution centers, even though they don't generate new sale taxes, and I applaud those efforts. There is no reason we cannot also work to bring SMALL businesses back to the central and southern parts of the city. None of the current council lives in those areas.
The Bass brothers did it in Ft. Worth, let's do it in Haltom City! This cause is worth championing and evangelizing for! I believe it will take 5 years to get a good start, with a cooperative council. I hope to get pro-business council members elected over the next few years. By the way, it's not just about the money I bring to this effort, it's about being adept at using resources effectively to build companies, leverage people. These are the experiences that qualify me to at least tender ideas.
Please watch my videos on my Facebook page, Make Haltom City Thrive Again or here. They explain my ideas and background. You will also find my concept plans here, step by step, to bring back those small businesses.
What can you do to help? Please join me in this collaborative effort, I don't have all the answers. I am honored to take on this task and if I was not taking a strong activist role in revitalizing this great city, bringing back the small businesses, and presenting ideas that will bring the private investments that will be needed, who would be doing it? Some are critical of my wealth, but I want to use my assets to accomplish this daunting initiative. Decades have passed; it's time to get on with this task.
Run for City Council – What a great way to get involved! I am eager and proud to financially support business friendly candidates, lets meet and discuss! Contact me or refer someone to me I can discuss this initiative.
Like and follow my Facebook page, Make Haltom City Thrive Again.
Send your ideas to me – I do not have all of the answers - please email me at Rons@RDSInvestments.com, or message me on Facebook. I love collaborative efforts.
Feel free to send me a friend request on Facebook, Ron D Sturgeon.
Don't forget to ask for a free copy of my newest book if you live in Haltom City, Keeping the Lights on Downtown, The Critical Role Small Businesses Play in Bringing Back Jobs & Prosperity.
I hope you will join myself and others in this effort to revitalize Haltom City. I am huge fan of this mighty city, and I want the best for our residents and businesses.
Ron Sturgeon
5940 Eden DR
Haltom City TX 76177
817-925-4244 (my personal cell)
Ask for your free copy of my new book.
This is my tenth business book, Keeping the Lights on Downtown in America's Small Cities: The Critical Role Small Businesses Play in Bringing Back Jobs and Prosperity. You will find it on Amazon, with over 20 five-star reviews. If you live in Haltom City, email me and I will send you one free. If you also Google Haltom United Business Alliance, you will find lots of news and commentary about how the business community thinks the city can improve and success stories from other cities that were willing to rethink zoning and use matters to streamline business startups and development.
I've also posted on the Facebook page and on this site the concept plan, developed with the business alliance, for bringing small businesses back, which has never been acknowledged by the Haltom City Council, even though it would be free for the city, easy to implement, and I believe it would help attract the hundreds of millions in private capital needed for this endeavor.
---
Suggested Goals for Our Elected Officials and City Leadership
(Add your own goals for your city)
Make Haltom City thrive again
Bring back the small businesses to south and central Haltom City
No new taxes (no games with tax rate) unless identified increases in budget are agreed on, like a new fire truck
Maximum support for our first responders
Road repairs need to be a higher priority.
Make Haltom City the best choice for new businesses and residents
---
Concept Plan for Haltom City – Or Your City!
(From my book)
Some will criticize the plan. I love a collaborative effort and look forward to seeing other plans, or edits, to my proposal. Please spend as much energy as possible on proposing your ideas for revitalization, rather than just criticism of this concept. There should be no downside in this effort. Interestingly, in the year since the first edition, no one has proposed a plan or is even willing to talk about the decline in the city. Many lose sight of proposed changes because they think I am focused on bringing back automotive businesses, which is far from the truth. I talk to folks every week, and most are not owners of automotive businesses. However, many are struggling to bring their business to Haltom City or to expand in Haltom City. Many of the rules that are hurting businesses are the pet concerns of specific councilpersons and are totally unjustified. Read more about the details of all these items in my tenth business book, available on Amazon, Keeping the Lights on Downtown in America's Small Cities – The Critical Role Small Businesses Play in Bringing Back Jobs and Prosperity.
I will start the ball rolling. You can discard all of it or portions, and please add to it, but think about a plan and talk to others. One thing is a certainty: without a plan nothing is going to change. Here are a few ways that Haltom City's leaders could rethink the way it is doing business and try to adopt the more business-friendly approaches used in many nearby cities:
Many or most of these ideas can be limited to just the areas identified for redevelopment or revitalization. They are numbered for discussion purposes, not necessarily in priority. Many of these ideas have been proven to work by other cities, and I learned a lot of them from reading the book Strong Towns.
The single biggest thing that should be done is to update the use matrix so that more new businesses can come in and open and get a certificate of occupancy without extensive public hearings. Most simply go to adjoining cities, where opening without hearings is routine. In Haltom City, the current council is determined to micro-manage every new business with public hearings for everything from dry cleaners to snow cones stands.
Consider moving to a form-based zoning code instead of a use-based code, at least in certain areas, such as many older cities have. This change has produced dramatic results for cities such as Mansfield, TX. It's not just for downtowns or for new development.
Parking requirements should be eliminated or dramatically reduced. They create large areas of paving that stay vacant most of the time, add no value or income for the city, and are a real impediment to many businesses opening. This concept is always concerning, but this reform could be imposed for say 2 years so that everyone can see the results. Everyone agrees that there are large swaths of paving that are never used. This one requirement is likely the single largest killer for new businesses.
Opportunities businesses have to expand their products and revenues are denied by the city without adequate consideration for accessory uses. (For instance, a chain saw dealer should be able to sell snacks and sunglasses, without getting a new CO.)
Create zones in the central and southern areas and corridors with relaxed rules for new or expanding businesses.
Change-of-use rules could be relaxed in the declining areas. There is no reason a donut shop shouldn't be allowed to move in where there used to be a retail store without extensive paperwork. If a use changes, lots of paperwork and full ordinance inspections are triggered, and in many cases the older buildings must be brought up to current codes. Change-of-use provisions should be relaxed or eliminated within zoning categories, i.e., in commercial zones all the uses are "interchangeable". (This item is unlikely to be an issue with form-based zoning.)
As retail declines after COVID, adding to the vacancies, cities should be more thoughtful about what kinds of businesses will backfill the vacancies. Hoping for more retail is a failed strategy.
Fire sprinkler requirements for older buildings assure that they will never be occupied again. Consider other safety ideas, like monitored fire alarm systems, smoke vents and curtains, or delaying sprinkler requirements for a period of years or to just a portion of the building on smaller buildings with less intense uses.
Make automobile uses, including dealers allowed in heavier C and all M zones, only requiring a CUP in the lightest C zones. (This would not need to be citywide, only in the designated zones.) (This may not be an issue in form-based zoning because most commercial uses, including automotive uses, are treated the same.) Sure, there are unsightly automotive businesses, but the entire industry cannot be judged by a few outliers. The business alliance has proposed licensing them with an annual fee that will offset inspection costs for code enforcement at least annually.
Storage containers are essentially outlawed in Haltom City, even in industrial parts of town, hampering the ability of small businesses that can't build but want to store and grow inventories. They aren't even allowed when screened. Businesses need these, so they should be legitimized.
Extensive landscaping requirements with irrigation don't make sense in a drought management environment.
There's a lot of unused brain power in those business and property owners, consider letting them serve as non-voting members on the boards and even the council. (I personally think they should be allowed to vote - surely one or two can't overwhelm the other four to six votes?) Any city that thinks their opinions and ideas aren't valuable has a large disconnect.
Recognize there isn't enough public money to restore the declining areas; the money must come from private investment. Our alliance has given the city many ideas on doing this, most of which would cost the city nothing.
Make sure that your council meetings allow and make it easy for people to speak.
Consider hiring a consultant (not an engineering firm) to make a proposal after some amount of review of where the city is and where it would like to be. It would be great if the city considered strongtowns.org for that help, as they have helped a lot of cities that are wanting to be bring revitalization.
Come up with a brand for the city that can be achieved. Track inquiries in the planning department and follow up with those that inquire as to why they did, or didn't, come (or buy property) and if they need help understanding any requirements. Determine how many opportunities there are to bring new businesses with this tracking.
Review the sign ordinances to make them simpler and streamline the process, and allow signs on more than one side of a building when the adjacent properties are not residential.
Count the vacant buildings in the district, once annually, and generate a report on progress to increase occupancy.
Define other metrics to track efforts.
Most of these ideas can be implemented quickly (within months), and at no cost to the city or taxpayers. Issues that arise are easy to fix or modify. Waiting to implement such ideas drags the process out for years.
In any case, an idea without a plan or date is a dream, so let's get moving making Haltom City the proud city with bustling corridors it once was.
Visit www.MakeHaltomCityThriveAgain.com for information on the book and updates.
---
Videos
Supporter Of Small Business https://youtu.be/LD6aE3Evz7Q
How the Campaign to Revitalize Haltom City Started https://youtu.be/aInbvyAOBd0
Isn't Haltom City Like Other Small Cities https://youtu.be/E-FxK0hHA1I
The Haltom United Business Alliance https://youtu.be/rQ6bvKKBKgQ
Ron's Book on Revitalizing Declining Cities https://youtu.be/H8SNeJj0gpM
The Concept Plan
The Concept Plan for a Declining City https://youtu.be/3NREyyV81bU
The Concept Plan – Changing the Use Table, Form Based Zoning https://youtu.be/ffYan-IkkSY
The Concept Plan - Parking Requirements, Shipping Containers, Specific Zones https://youtu.be/IAkPbgsQC28
The Concept Plan – Change of Use Requirements, Sprinkler Requirements https://youtu.be/n_BYBsY8HLk
The Concept Plan – Cities Restricting Commerce – Automobile Uses - Landscaping https://youtu.be/gMhJd7TxQqU
The Concept Plan – Public Money and Private Investors – Restricting Public Input https://youtu.be/nttUHEID7rc
The Concept Plan – Defining Metrics to Measure Initiatives - Making & Implementing a Plan https://youtu.be/XlXQPjP_F0U
Other City's Successes - Build it and they Will Come – TIRZS and Other Mistakes https://youtu.be/GksQc-mO3n8
Find One Rich Investor – Other Problems and Solutions – Lack of Other Plans https://youtu.be/GeVUtNbidvE
Research for the Book – Strong Towns & Success Stories https://youtu.be/j-_-zYYjyNA
Ron's Efforts to Help the City – Concerns by Others https://youtu.be/76ZF7vnygwg
---
Ron's Book
Ask for your free copy of my new book. This is my tenth business book, Keeping the Lights on Downtown in America's Small Cities: The Critical Role Small Businesses Play in Bringing Back Jobs and Prosperity. You will find it on Amazon, with over 20 five-star reviews. If you live in Haltom City, email me and I will send you one free. If you also Google Haltom United Business Alliance, you will find lots of news and commentary about how the business community thinks the city can improve and success stories from other cities that were willing to rethink zoning and use matters to streamline business startups and development.
---
Contact Ron Sturgeon
5940 Eden DR., Haltom City TX 76177
817-925-4244 (my personal cell)
---
Media
Visit my Make Haltom City Thrive Facebook Page to see current media about this initiative to get new leadership, and revitalize central and south Haltom City.